Cambodia has one of the highest levels of contamination by explosives in the world

Since 1979, over 64,000 people in Cambodia have been killed or injured by explosive items and there is still an average of one death or injury every week. Landmine contamination continues to block safe access to land that could be used for agriculture, schools, and housing for returning families. It is vital that we get to every landmine and unexploded bomb to give communities back their futures free from fear.
Between 1st March and 31st May you helped raise over £60,000 to protect families. This amazing fundraising will be matched to over £120,000 by a generous MAG supporter making double the difference for families in Battambang province.
Every penny given is already being put to work to save lives in Battambang province, Cambodia. This funding will enable us to:
Fund a landmine clearing team for one year.
Destroy landmines and unexploded bombs from 93,150m2 of land
Give back land to equivalent to the size of 476 tennis courts
Support more than 2,600 people living in affected areas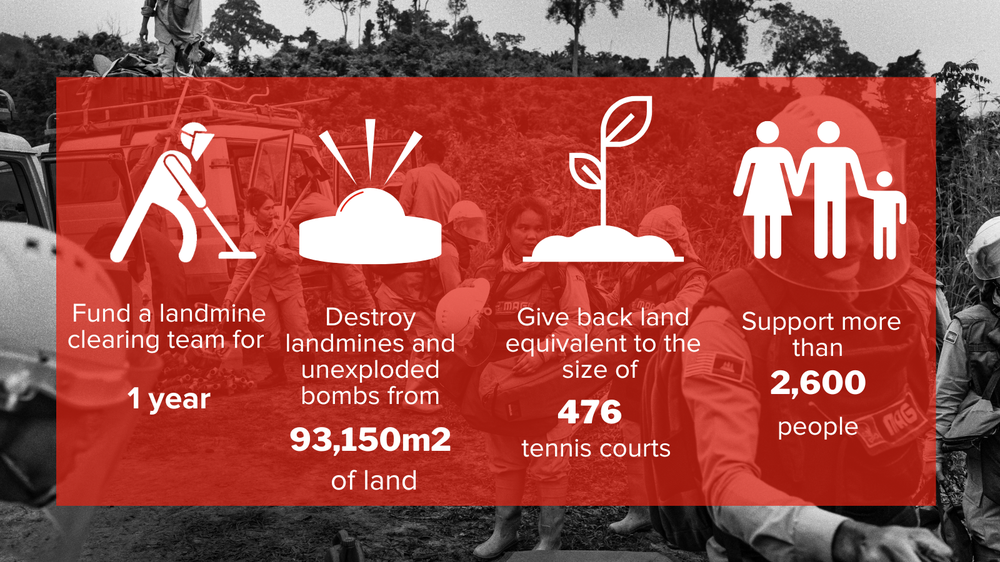 As a direct result of your support and generosity, Battambang will be a safer place for the women, girls, boys and men that work, play, walk and live there. Decades after the war ended, they will finally experience true peace.

Meet some of our team in Cambodia, and people supported by our work.