We all remember those Christmas trips to the pantomime, the excitement of being sat in the audience with other children all shouting 'he's behind you!'
For our Christmas appeal this year we want to do something truly special for the children of Nigeria – life-saving puppet shows that teach them the dangers of landmines and unexploded bombs.
Nigeria remains in the grip of a nine-year conflict involving Boko Haram and national and international security forces. The impact on the civilian population has been grave, particularly in the states of Borno, Adamawa and Yobe. An estimated 7.7 million people, including 4.3 million children, are in need of humanitarian assistance. In Borno State 1.6 million remain internally displaced and close to 200,000 people have sought refuge in the neighbouring countries.
This ongoing conflict has left north-east Nigeria contaminated with a range of explosive items including locally-produced landmines and unexploded bombs.
MAG teams work in extreme conditions to teach children how to recognise and avoid these dangers. Many children haven't attended school for years and entertainment is non-existent. Children rush to our risk education teams, desperate to get to the puzzles and colouring-in sheets we use to teach them about landmines. They throw themselves into the drama and songs that we use to embed safety messages in their minds.
Now we want to take this one step further and with your help we will develop very special puppets to create shows for the children to teach them how to avoid danger, and deploy our community teams to children most in at-risk areas.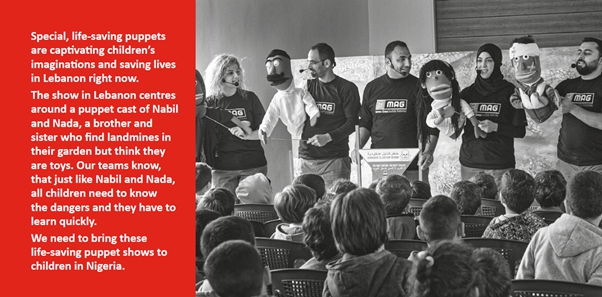 I can only imagine how excited children in Nigeria will be at seeing a puppet show. And by making it fun it ensures that the messages are engaged with and absorbed. It's hard to think what these children have been through but these puppets really could save their lives.
Please donate today. It will be the most important gift you give this Christmas. Every pound you donate will help save children's lives.