This week I have been in Kyiv seeing first-hand the devastating effects of conflict. The use of heavy artillery, landmines, cluster munitions, both in rural and populated areas, has left a devastating and deadly legacy. Land that should be used for agriculture, or homes that should provide shelter for children to play and sleep, especially as we go into the a hard Ukrainian winter, are too risky to used.
We all know the back story by now. On the 24th February Russian forces invaded Ukraine. An overly ambitious lightning advance on Kyiv sought to surround the city. Met with a resilient defence, a month-long intense artillery campaign ensued before a withdrawal in order to concentre efforts in the East – the horrors of which continue to play out in our daily media reports – whilst continuing to terrorise communities with the threat of long-range missile strikes.
Since the invasion, enormous efforts have been underway to make land and property safe and I met with and heard about the heroic work of the Ukrainian Demining Association (UDA), Ministry of Defence's National Mine Action Authority (NMAA), Ministry of Reintegration for Temporary Occupied Territories (MRToT) and State Emergency Service Ukraine (SESU) – with whom I signed an agreement to further strengthen collaboration.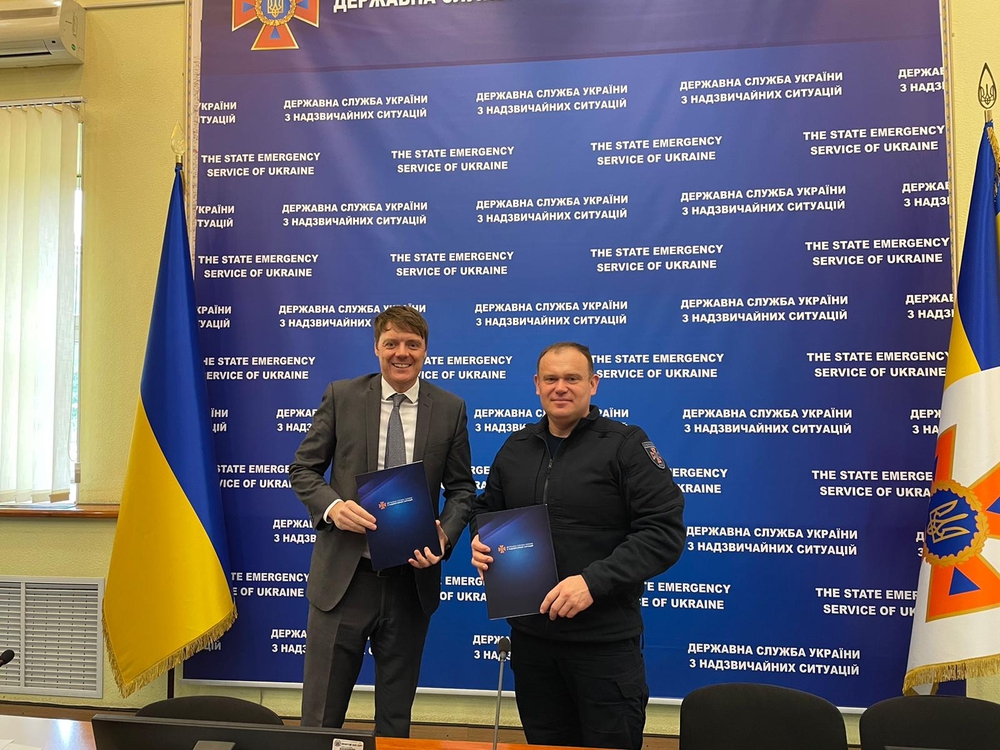 However, the challenge that remains is monumental and potentially growing as new territory is liberated in Kharkiv, a city and region that has undergone months of intense, bitter ground-fighting accompanied by a brutal artillery campaign.
MAG's mission here, as ever, is to save lives and build futures. We had not worked in Ukraine prior to the conflict but mobilised a response as soon as it was safe to do so and, led by a dedicated team, have been working closely with local partners to provide risk education to at risk groups. Explosive Ordnance Risk Education, as we call it, takes various forms as we find the best way to reach at-risk people, from billboards on busy highways, to radio campaigns playing across the country, to digital messaging via social media.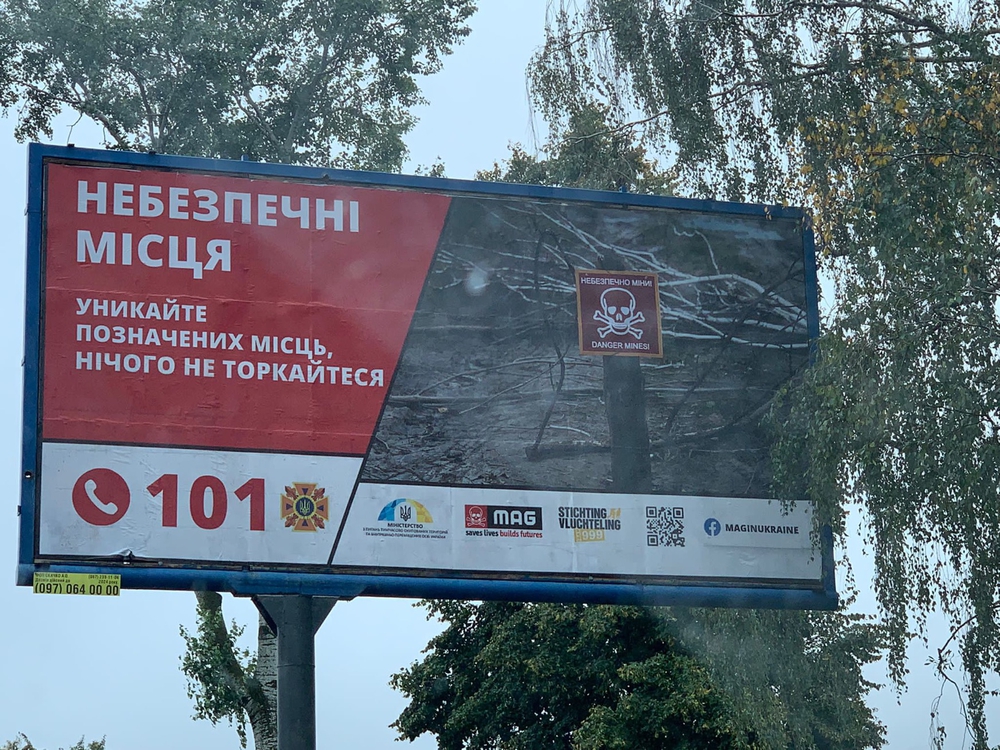 In Ukraine, as in many parts of the world, local partnerships are at the heart of how MAG works, ensuring a sustainable and locally led response to challenges which might take decades to address.
As we go forward we intend to scale up our work, backed by the generous support of our loyal supporters. We are in Ukraine to make land safe and to draw on the tragic lessons from this and conflicts like it to drive political change, as we did 25 years ago when MAG was one of the driving forces behind the International Campaign to Ban Landmines which ultimately led to the Anti-Personnel Mine Ban Treaty.
The transformation we are seeking is depicted in a mural – murals are a part of Ukrainian culture adorning many buildings in the country – developed by the brilliant artist Postulga. In one simple image we see what life was like when land was safe to grow sunflowers (Ukraine was one of the world's largest sunflower oil producers, cuts to which to have only added to rising levels of food insecurity in some of the world's poorest countries) and what life could and should be life once rendered safe to use.
We stand with the people of Ukraine – as we stand with all communities afflicted by conflict.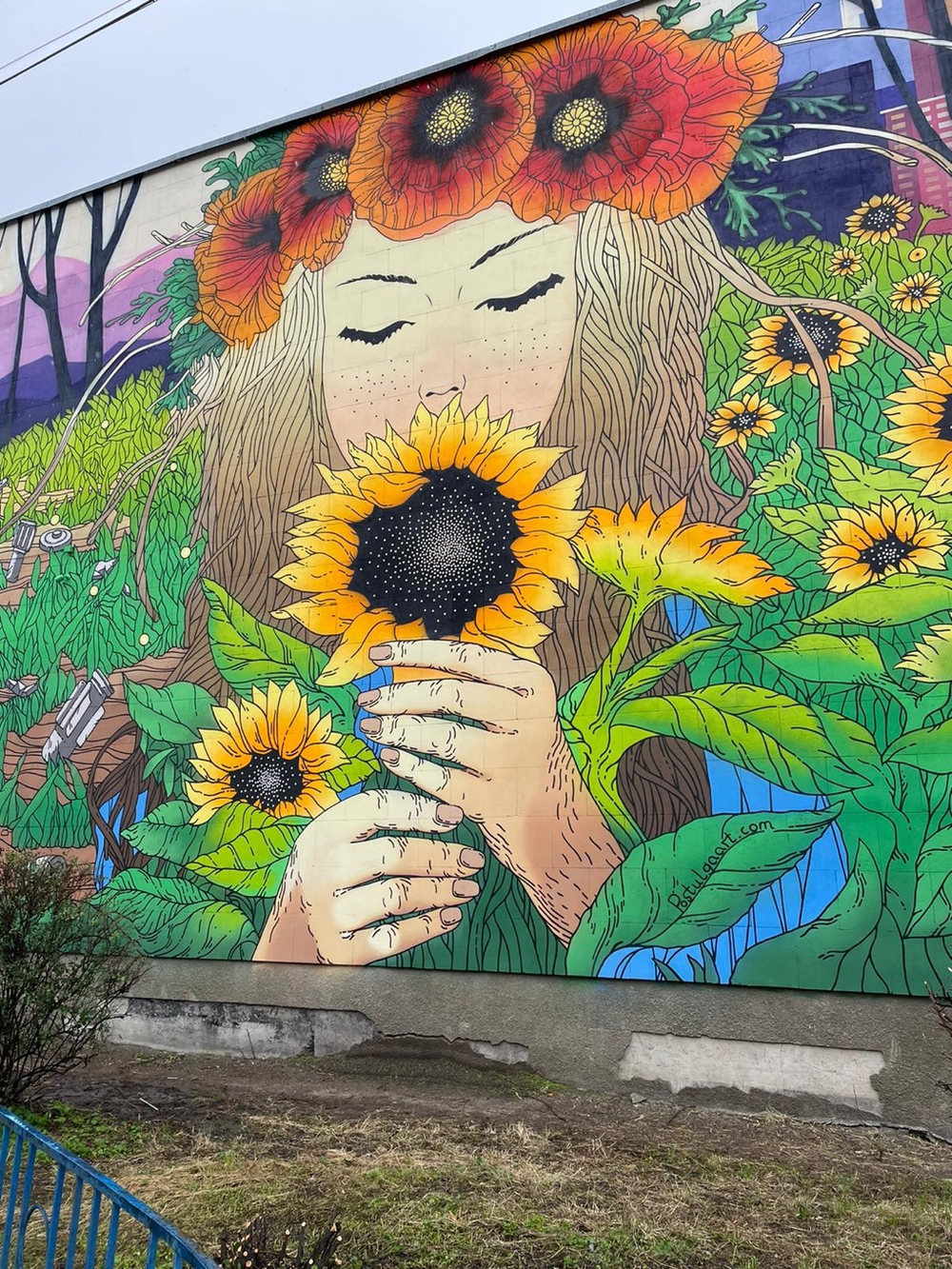 Find out more about our work in Ukraine here.